About Us
Intermediate Volleyball Programs (IVP) Colorado hosts sand volleyball leagues and outdoor tournaments along the Front Range - Denver, Ft. Collins, Colorado Springs. Our organization is composed of volleyball players and enthusiasts that have years of experience on both competitive and professional levels of volleyball play and training. We have organized leagues and tournaments where beginners will build a solid foundation of skill and fun but also for advanced players looking to sharpen their skills and tournament competition. We look forward to meeting great people and playing some volleyball!
Mission statement
The primary goal of Intermediate Volleyball Programs (IVP) is to facilitate the promotion, operations, and management of recreational volleyball for adults. Our incentive is to work in conjunction with various establishments to provide an environment where people can come to relax or exercise, laugh with friends, and most of all, enjoy the sport of volleyball!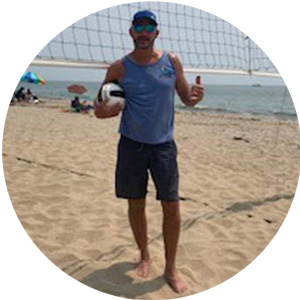 Chris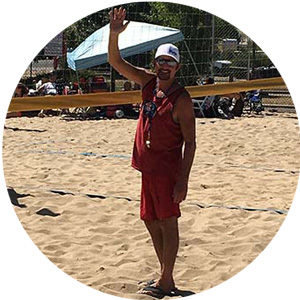 Phil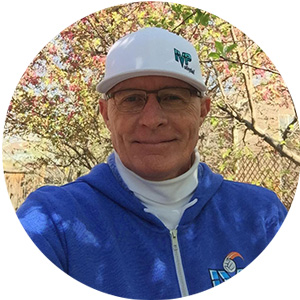 John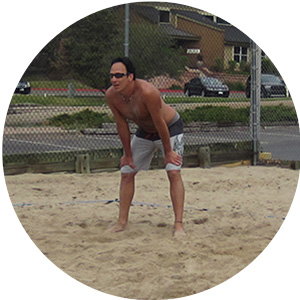 Eric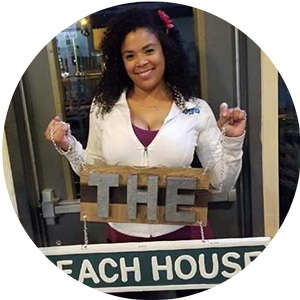 Ginger
Chris - President
Work History
Chris has worked for the U.S. Postal Service many years. He has continually received promotions and is now Station Manager at the Capital Hill Station, where he managed 130 employees and 20 million in revenue. In previous years he has held the position of Postmaster of Castle Rock, Breckenridge, Lafayette and Broomfield Colorado.
Volleyball History
Chris has played volleyball for over 25 years, and has been competitive for over 10 years. In the open tournaments he competed in, he finished in the top ten eight times. He has played in over 100 tournaments at all levels - B, BB, A, AA and Open and has won over 50 of them. Some of those successes were King of the Beach tournaments. He has also participated in organization of charity and non-charity tournaments.
Most recently in 2011, Chris won the Steamboat Doubles tournament, which consisted of over 400 teams and won the men's doubles with Lance Brink. Then in 2012, he won in Aspen at the Motherlode tournament with partner Rocky Basile.
Chris now trains top players to compete at the highest level, as well as intermediate players individually or in groups of 4 and also youth volleyball. He also referees recreational as well as high school volleyball, where he is certified by CVOA. He also coached youth volleyball for children 5-12 years old.
Education
University of Northern Colorado and North Community College. Numerous training courses through the USPS - i.e. Revenue Generation, EEO Rights & Remedies, Respect & Protect - Providing Training, and many more.
Phil - The Twin!
Work History
Phil has owned over the years a Dairy Queen 2 A&W restaurants and a Kwik Kopy printing and office buildings. He now owns and operates CP Construction. Having managed well over 5,000 employees in his career, Phil is well suited to the rigors of "running the show" and has a lot of experience with people.
Volleyball History
Phil has been playing for 15 years and has played in over 30 high level tournaments including Vail, Breckenridge, Aspen and Huntington Beach CA. He has trained many people the game. He is also a certified ref for the state of Colorado CHASSA. Phil has refed all levels of volleyball including the state tournaments. He also coached youth volleyball for children 5-12 years old.
Just like his "twin"... Phil has a deep and abiding love of the game. He takes it serious, but still manages to make it immense fun for everyone involved. Phil especially loves working the clinics... he really enjoys seeing so much player improvement week after week.
A genuine "people person"... Phil is the guy you want on your team.
John - The twins older brother
John lives in Fort Collins with his wife Raquel whom he met while teaching and coaching for the Department of Defense schools in Panama. They have two sons who grew up on military bases overseas in Panama, Cuba, Japan, where John worked as a teacher, coach, and school administrator for 25 years. Since retiring John has been officiating women's HS, MS, and adult volleyball leagues all across northern CO. John is a lifetime rec league volleyball player so the twins are much better volleyball players than John but he kicks their butts in golf.
Eric - E-man
Work History
Currently Webmaster/Designer/Developer/Digital Marketer
Web Developer/Web Designer, Delwest, Marketing Department (Silver Award Best Website)
Web Development & Support, Designer, Exabyte Corporation, IS Department
System Analyst/Reporting Solutions, Exabyte Corporation, IS Department
Process Engineer, Exabyte Corporation, Service Department
Technician II, Exabyte Corporation, Service Department
Computer Technician, Department of Electrical and Computer Engineering, Kansas State University
Student Engineer, A.Q. Miller School of Journalism and Mass Communications, Kansas State University
Volleyball History
Eric has been playing sand volleyball since 1992 and in Colorado since 1995. His first win as an amateur win was in 2000 with a career high finish of 9th in Open division in 2004 and even has a win with Chris in 2005. He has participated in all the major tournaments around that state at one point and even ones hosted in Telluride which he (and his partners) are the only ones from the Denver area to participate! At one point Eric was participating in 2 tournaments a week, running his own league, participating in up to 4 leagues a week and also playing everyday at lunch time! He currently is still active in leagues/tournaments. He got the sand volleyball bug back in the late 80s/90s when watching the AVP pros compete on TV.
Ginger
A creative and highly qualified marketing and business development expert, with 15+ years of experience across a variety of industries. Her portfolio is punctuated with bench marks of continuously growing success and achievement.
This charismatic women's flourishing career was catapulted into the arena of sports, bars, and restaurants when she purchased IVP at the beach house in 2019. Dispite all odds, in the midst of a pandemic, while veteran and newly formed resturants alike closed permanently, Ginger was able to capitalize on the market and Double the previous years profitability.
In the next 10 years, ginger, as owner of IVP at The Beach house, in conjunction with IVP Colorado, plans to do whatever it takes to see the IVP brand, and our love of volleyball, spread across the rocky mountain and front range communities.